Festival for the Future is New Zealand's largest social innovation summit. It is a fusion of inspiring speakers, workshops, entertainment and includes a festival marketplace activation space for social innovation.
The National Commission was involved in the Festival in a variety of ways including as a bronze sponsor; providing three youth scholarships to the Festival; a booth in the marketplace run by our UNESCO Aotearoa Youth Leaders; and hosting a workshop to improve awareness of the UN Decade of Ocean Science.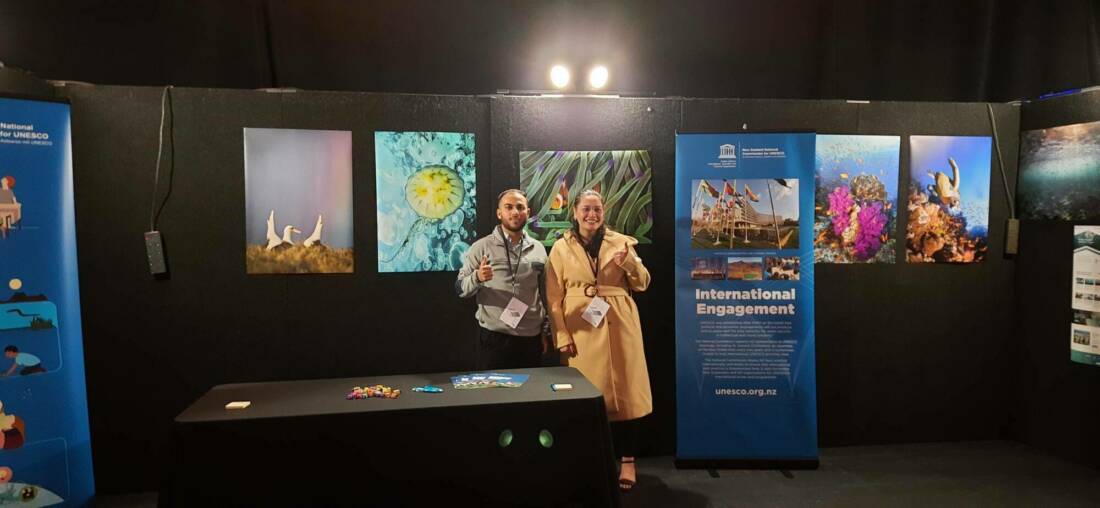 For the UNESCO Aotearoa Youth Leaders, the Festival provided inspiration, new connections, and an opportunity to showcase their mahi as Youth Leaders.
"Being able to share the importance of Kaitiakitanga at Festival for the future this year was definitely a highlight for me," says UNESCO Aotearoa Youth Leader Blair Kapa-Peters.
"It was so encouraging to see, hear and meet so many people not only from Aotearoa New Zealand but people from all over the world taking a stance against climate injustice & promoting the use of indigenous knowledge/science to help create sustainable futures," says Blair.
For UNESCO Aotearoa Youth Leader (Chair) Shahin Najak running the workshop on the Decade of Ocean Science and hearing directly from youth on the need to address the decline in ocean health was a real highlight.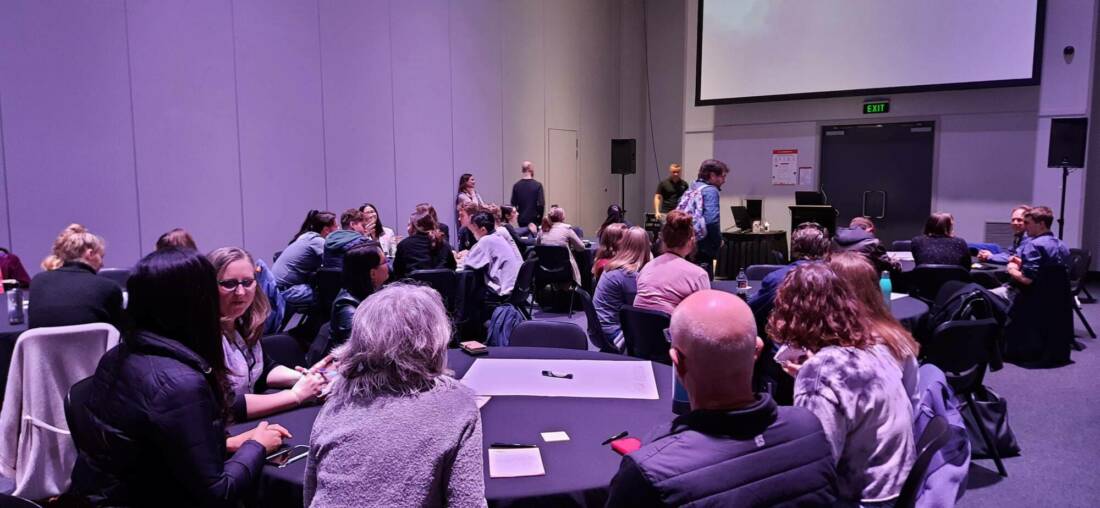 "It was inspiring to see so many young people passionate about taking action to reverse the effects of the climate crisis," she said.
Being able to hear from inspirational speakers was one of the highlights for Youth Leader (deputy Chair) Ethan Jerome-Leota, with the words of one speaker likely to resonate with him for a long time.
"Anjum Rahman during her kōrero about courageous leadership spoke about the need 'to make space for others to shine' instead of always wanting to elevate oneself. I really appreciated her honesty and her passion for elevating others and creating an opportunity for others to share their stories in a safe environment".
"For me I walked away from the Festival reflecting on my own contribution to society, reaffirming my personal beliefs and challenged to continue doing the mahi I do for Māori and my own iwi," said Ethan.
For National Commission scholarship winner Stella Lee, the Festival provided an opportunity to grow her own leadership skills, as well as learn from others, and build connections that will assist the mahi she is involved in as founding Executive Director of Rethinking Economics New Zealand.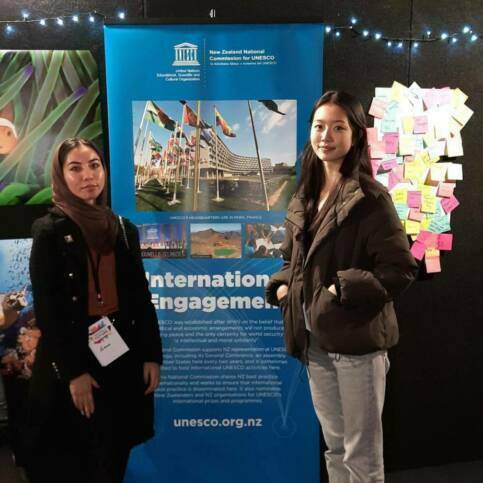 Among her Festival highlights were: "Meeting human rights warriors and listening to their stories: connecting with people working across different industries, from regenerative agriculture, sustainability, youth development, to social entrepreneurship; and witnessing the power of collective action and unity."
Being a NZ National Commission for UNESCO Scholarship recipient also provided Stella with an opportunity to connect with the Aotearoa UNESCO Youth Leaders, and to learn more about the Commissions work, especially around the Decade of Ocean Science.
"I truly am inspired by UNESCO's work and I love how the Youth Leaders also play an advisory role".
"The National Commission's current priority work area on ocean science and the unique approach, drawing on different knowledge systems, echoes our [Rethinking Economics New Zealand] mission to address the omission of alternative economic perspectives by bringing together mainstream perspectives as well as indigenous scholars and other 21st century economists," she said highlighting one of several commonalities between her mahi and that of the National Commission.
Festival for the Future took place in Wellington over the weekend 30 July to 1 August 2021. For more information on the Festival visit Festival for the Future.