Drivers behind the aspiring geopark hosted our Chair Robyn Baker from 13-14 August, along with two New Zealand UNESCO Global Geoparks Expert Advisory Panel members: Natural Sciences Commissioner Dr Geoff Hicks and Manaaki Whenua Landcare Research Māori development general manager Holden Hohaia. The visit was part of the application process, to enable the Panel representatives to experience the top 'geosites' in the area firsthand. This will assist them to guide the aspiring geopark in the completion of its full dossier, due to the international UNESCO office in Paris on 30 November.
Over the two days the group visited some of the 101 identified Waitaki geosites. This included Anatini, which features fossils of baleen whales, Elephant Rocks' otherworldly limestone landscape and Vanished World in Duntroon. The group also visited cultural and historical sites and talked with locals about their aspirations for the region. All going to plan, this tour will be a dry run for a visit by Paris assessors next year.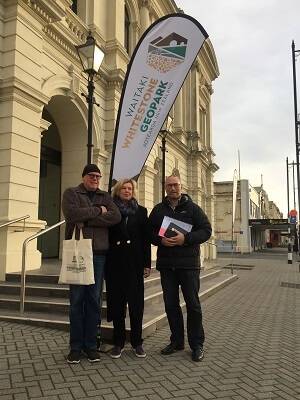 "We appreciated the opportunity to experience the wonderful riches of the region and to meet many of the people who are working together on Waitaki's bid to become the first Global Geopark in Australasia," says Chair Robyn Baker.
On 14 August Waitaki Mayor Gary Kircher, Te Runanga o Moeraki upoko (appointed traditional leader) David Higgins and Vanished World Trust chairman Mike Gray signed a Waitaki Whitestone Geopark Trust deed to establish what will be a seven-member trust to oversee the operations of the UNESCO global geopark, if it receives approval.