Fabriano (City of Craft & Folk Arts) in the Marche region of Italy was the host for the 13th Annual Meeting of the Creative Cities Network which I attended, representing Auckland City of Music. The meeting was also attended by Mayor Dave Cull from Dunedin City of Literature. In all, the meeting was attended by 480 delegates from 145 different cities and included 50 mayors.
Twenty-one of the 31 music cities were present in Fabriano which provided an opportunity for us to reacquaint with each other and discuss ideas, collaborations, projects and partnerships. Several projects have come to the fore, such as one brought to us by our colleagues in Norkopping, Sweden which encourages female participation in music and music video production. Another by Kansas City, USA is called "Voyage of the Drum" which tracks the diaspora of indigenous culture through the medium of humankind's most primal beat. As with everything we do, projects such as these aim to work towards aspects of the UN Sustainable Development Goals 2030.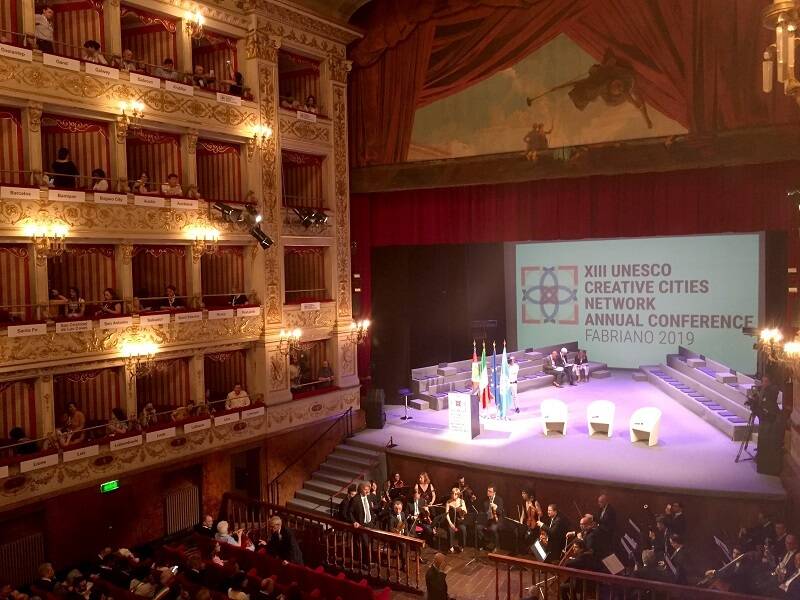 The Italian cities in the network also collaborated to provide a wider experience to delegates and giving network clusters an opportunity to visit their sister cities. In Auckland's case, this meant a 2-hour trip up the coast to the beautiful city of Pesaro (like Auckland, a 2017 member of the network). Pesaro is perhaps best known as being the birthplace of Gioachino Rossini, and we were privileged to be the first to tour the city's new exhibition dedicated to its most famous son; the grand opening coinciding with the 150th anniversary of the composer's death.
The annual meeting was also opened up to invited speakers from outside of the network for the first time in the form of London Deputy Mayor for Culture & Creative Industries, Justine Simons and her Senior Advisor, Laia Gasch. Learning directly from London's experience on using culture as a transformative power was both illuminating and emboldening. Regardless of size or location, cities need to find creative solutions – and solutions from creatives – to modern urban pressures. From Auckland's point of view, we are certainly moving in the right direction and the UNESCO network provides a commonwealth of knowledge and solidarity that I'm certain will serve us well far into the future.