International Jazz Day aligns the remarkable living tradition that is jazz music to the global conversation that rages on about how we can contribute to making the world a better place for everyone. Jazz music is a global force, and one that brings its values, passion and commitment to the table.
Change is initiated at a local level by people engaged in their communities, and Whanganui's celebration focused on inspiring its music teachers and their students of music. Dr Rodger Fox assembled an All-Star cast of jazz musicians and educators who did just that in an afternoon workshop. In a short three hours, they introduced some 40 enthusiastic novices to the iconic twelve bar form. And in the evening concert, to the delight of everyone, the students performed brilliantly.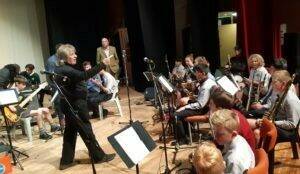 Central to the event was an expression of the International Jazz Day kaupapa here in Aotearoa of raising "awareness of the need for intercultural dialogue and mutual understanding". The evening concert delivered that in spades! Local reggae band Roots Provider opened the concert with Rodger adding his jazz conception to the music. Manny Abrahams, a jazz pioneer from nearby Ratana, sang a jazz standard in Te Reo. Local guitar legend Fred Loveridge played jazz and added his trademark blues guitar.
The assembled group of accomplished jazz exponents expressed a wide range of the repertoire. Brian Smith came down from Auckland to showcase his straight ahead improvisations. The ever-popular Erna Ferry sang beautifully. Lance Philip, Programme Director and Percussion Lecturer at the Victoria University School of Music played drums. The rhythm section was confirmed with two of Wellington's young stars – Daniel Hayles on piano and Chris Beernick on bass. And then there was the exciting Rodger Fox – playing his heart out, conducting, arranging, teaching, and talking – a tour de force.