The New Zealand delegation was led by the Chair of the New Zealand National Commission for UNESCO Robyn Baker, and included New Zealand's Permanent Delegate to UNESCO, Charles Kingston, his Deputy Emma Delage, National Commission Secretary General Vicki Soanes, and Culture Commissioner Dr Arapata Hakiwai, who joined the delegation for the second week to cover the Culture Commission.
The UNESCO General Conference brings together UNESCO's 195 Member States and 10 Associate Members, together with observers, intergovernmental organisations and NGOs. The Member States make decisions on a range of agenda items, including the adoption of the Programme and Budget. Other decisions taken during the General Conference include a revision of the Recommendation on the Status of Scientific Researchers, a Declaration on the Ethical Principles of Climate Change and a resolution on strengthening UNESCO leadership in the implementation of the 'UN Plan of Action on Safety of Journalists and the Issue of Impunity'.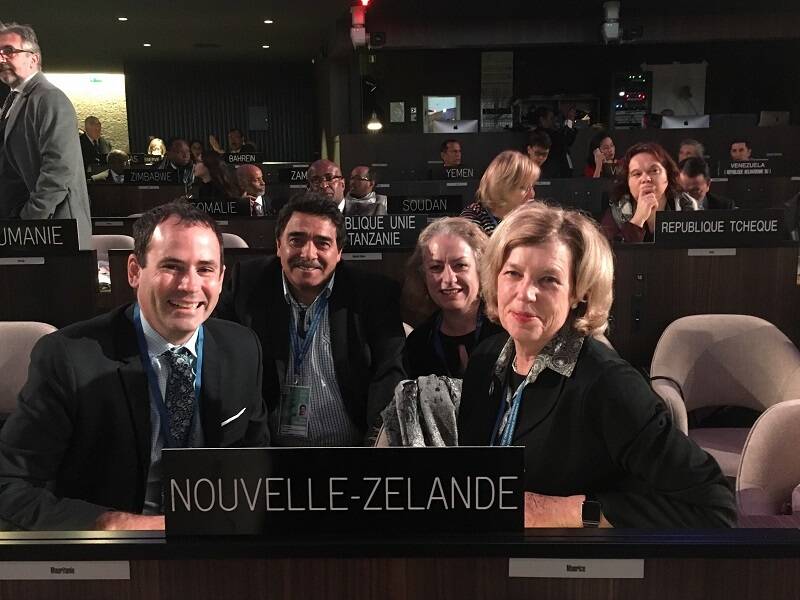 The business of the Conference is organised through a series of Commissions, including one for each UNESCO programme area – Education, Social Sciences, Natural Sciences, Communications and Information and Culture.
The General Conference was also preceded by two other meetings – the 10th UNESCO Youth Forum, which took place on 25 and 26 October, and the fourth Interregional meeting of National Commissions on 27 October.
The Pacific Island region (which includes New Zealand and Australia) provided a strong presence at the General Conference. Although often referred to as SIDS (Small Island Developing States) many delegates preferred 'Big Ocean Sustainable States', which sends a clear message about how the Pacific sees its place in the world. The region engaged actively in many issues including climate change; oceans; education; cultural heritage; and traditional knowledge. In spite of a strong campaign led by Prime Minister Puna, unfortunately the Cook Islands bid to join the UNESCO Executive Board was ultimately unsuccessful.
There is strong support for UNESCO's mission by member states. Countries value their participation and the technical support provided by UNESCO across the globe, particularly in Agenda 2030 and Sustainable Development Goals which provide cohesion and focus for the work of UNESCO and the member states.
At the same time the organisation is facing difficult times as it reframes its activities in the context of a greatly reduced budget.
National Commissions are making efforts to work more collaboratively, taking greater collective responsibility for connecting and working on projects of mutual interest. The Secretary General participated in several meetings with her counterparts and there are emerging plans for collaborative projects.
The next annual interregional meeting of National Commissions is scheduled for June 2018 in Kenya, with the agenda to be driven by the National Commissions.