Gracielli Ghizzi-Hall, who leads our GCED work programme, took part in the five-day event, organised by the UNESCO Office for the Pacific States. She attended with Katrina Fraser, GCED expert and teacher from Patea Area School. The school was one of the winners of the Commission's GCED awards earlier this year.
Katrina and Gracielli presented on GCED in the New Zealand curriculum and about various GCED initiatives, including those of Patea Area School and the National Commission. The pair had the opportunity to share their knowledge and learn from insightful GCED experts, curriculum designers and teachers.
"The interactive nature of the engagement enabled us to work as a team and relate to representatives from Samoa, Cook Islands, Tonga, Tuvalu and Kiribati," says Gracielli. "In addition to building relationships with these Pacific partners, our participation also provided a valuable opportunity to strengthen links with members of the UNESCO Apia Office and other representatives which are likely to lead to cooperative projects in the future."
The overarching aim of the Pacific series of GCED workshops is to create a framework for supporting non-cognitive development in education using GCED tools and approaches in the Pacific.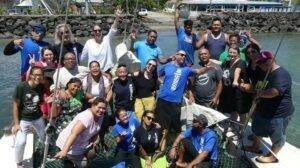 The workshop began by addressing the important issue of clearly defining key concepts. Participants explored the meaning of the words global, citizenship, education, sustainable and development; and critically accessed the relevance of local media articles to the sustainable development goals.
The next day included discussions on what quality teaching looks, feels and sounds like; and the importance of leadership, recognition and professional development in creating an effective learning environment.
"We reflected on the non-cognitive skills that young people need in the Pacific, identifying the competencies already integrated in the school curriculum and the current gaps.
"The UNESCO programme Sandwatch was introduced as a useful resource to embed GCED in all curriculum subjects. Sandwatch is an educational process through which learners, teachers and the community work together in the field to monitor their coastal environments; identify and evaluate the threats, problems and conflicts facing them; and develop sustainable approaches to address them."
The UNESCO resource The Canoe is the People became the theme of the last day of the workshop, as a recognition of traditional and community knowledge as a key approach for GECD.
Katrina Fraser, in her role as the Impact Inquiry Programme Coordinator at Patea Area School, has developed a plan to implement Sandwatch and The Canoe is the People across all years and curricula subjects at the school with involvement from the wider community. She will keep the workshop group updated on her progress.
The UNESCO Apia Office will undertake the second and third workshops of the GCED series in Vanuatu and the Marshall Islands. In April 2019 it will share a report compiling the results of the project.