Joint Fourth Place winners:
Angela Fu for Requiem for my Dreams, "a passionate piece of writing that strongly evokes the protagonist's longing to move beyond a traumatic event."
Oshadha Perera for The Human, "enigmatically covering a vast span of time from the origins of the earth to the appearance of a human being and the impact he has on a village's animal inhabitants."
Third Place winner:
Sophie Woodham for The Hills, the only poem among the entries. "Deftly combining poetic, philosophical and art historical commentary, The Hills swerves about in stanzas that ultimately enables the reader to simultaneously consider what is taking place within the paintings and what it might be like to make decisions in the act of painting."
Second Place winner:
Caitlin O'Brien for Flight, inspired by McCahon's painting Otago Peninsula (1946-1949) and "sensitively tuned to the vertical viewpoint of this painting, describing the day in the life of a harrier hawk, as the story's protagonist. Viewing the peninsula scene through the hawk's eyes, by getting into the character of the hawk is thoroughly impressive. Caitlin's ability to make plausible the consciousness of another being (a hawk) is remarkable."
First Place winner:
J A Thea for Hills. "Initially this work appears like a narrative about a girl getting out of a bath! The success of Hills lies in its ability to make compelling correspondences between things that are considered significant, such as distilling the land to its essence, and things that can be treated as less important, such as a young girl's experience of family life, and her mother's fourth pregnancy. The story's opening line 'My knees poke out of the bath like islands, godlike heads lifted from the sea', begins an entire chain of associations or transpositions, where the bodies of the girl and her mother are mapped onto Otago Peninsula and reciprocally, the landforms onto the girl's domestic world."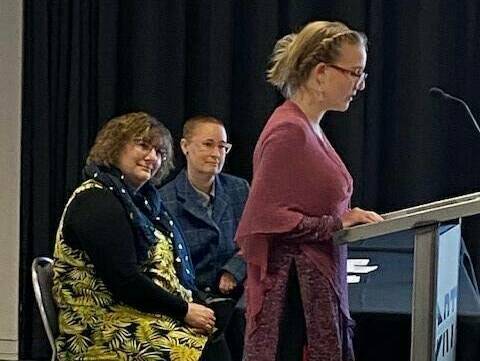 The official prizegiving ceremony took place at Dunedin Public Art Gallery with good self-distancing practice adhered to. The small gathering were extremely appreciative to hear the winning entries read aloud by their authors.
*Judges comments courtesy of Robyn Maree Pickens