The High-Level Celebration brought together participants comprising of indigenous and political leaders to reflect on the critical situation of Indigenous languages and foster greater international cooperation during the Decade.
Represented among the 700 in-person participants (who were joined by a further 1,500 on-line participants from 125 countries) were our Culture Commissioner, Dr Dan Hikuroa and Special Advisor Youth, Ethan Jerome-Leota. Dan and Ethan were part of a wider Aotearoa New Zealand delegation led by Minister of Māori Development, Hon Willie Jackson. The delegation also included Professor Rawinia Higgins, Chair of Te Taura Whiri i te Reo Māori and Pacific Representative on the UNDIL Global Taskforce, as well as Te Mātāwai Co-Chairs Bernie O'Donnell and Reikura Kahi.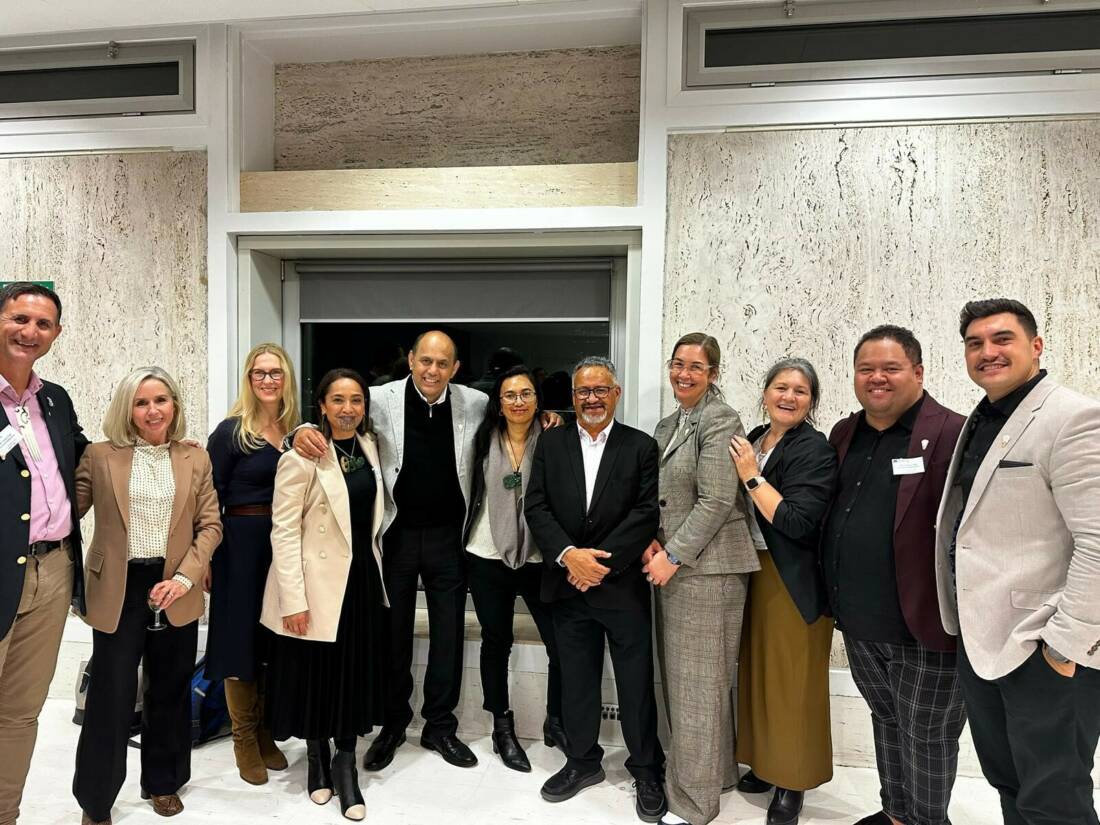 As part of the Celebrations the Aotearoa New Zealand delegation gifted a taonga, a putatara (a conch shell trumpet) to UNESCO representative, Dr. Tawfik Jelassi, Assistant D-G for Communication and Information. It is symbolic of the call to action, turangawaewae, kaitiakitanga, whakapuawai and sustainability of our languages and cultures.
A landmark occasion, the launch was about bringing new hope and commitment, both of which are necessary for the preservation, revitalisation and promotion of Indigenous languages.
The event gave participants a platform to tell their stories, share best practices, and voice their commitments to Indigenous issues and global linguistic rights. Further, it constituted fertile grounds on which to foster lasting relationships and build familiarity and trust between the various stakeholders in this Decade, including Indigenous Peoples' organizations, UN system entities, and members of the private sector.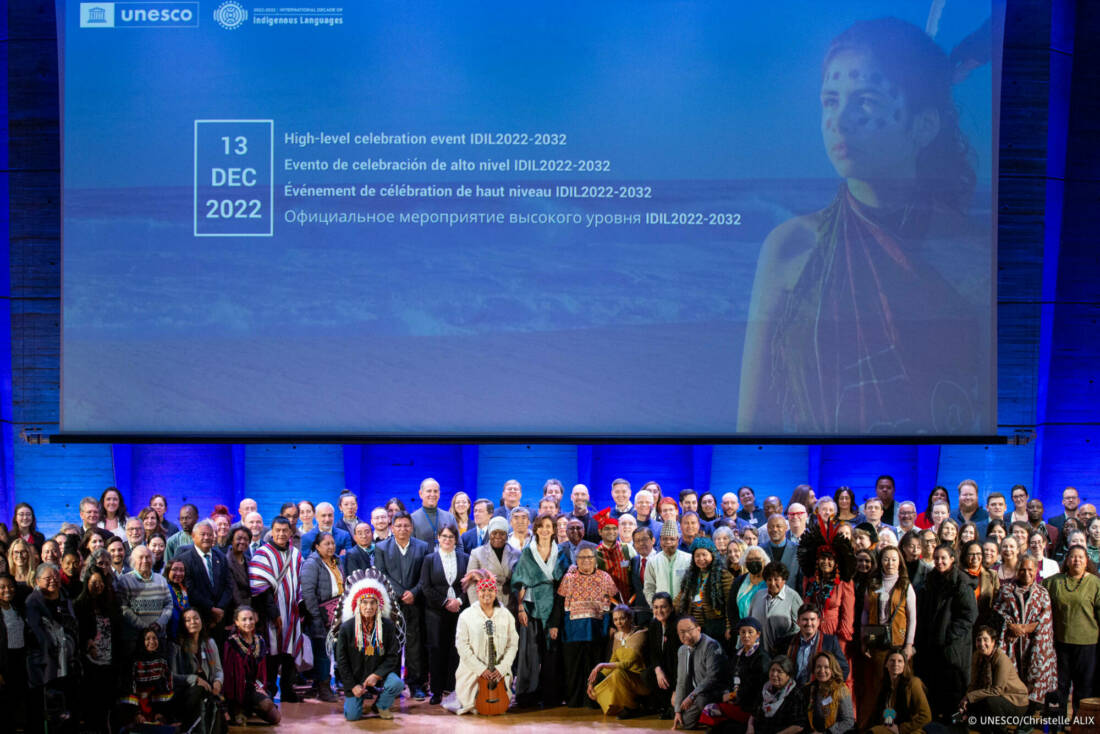 During the celebrations, Dan and Ethan spoke at a roundtable on Indigenous Languages, Culture and Knowledge for Climate Action and Environmental Sustainability. At the roundtable Dan outlined the links between indigenous languages, the work of the Languages Decade and in particular, its importance for the UN Decade of Ocean Science. Ethan highlighted how Māori knowledge and traditional ways of being is being recognised as law in New Zealand and how important language is in his work as an UNESCO Aotearoa Youth Leader and for his iwi.
How back in Aotearoa Ethan and Dan reflect back on their time at the launch:
"Travelling as a UNESCO Aotearoa unit was a highlight for me, we came together as colleagues but quickly became a whānau," said Dan.
"Meeting many people face-to-face who I had previously only met on-line, as well as many new people, in particular colleagues from Australia and Canada, as well as other people representing the wider 'UN' stable was a highlight of the trip for me. We now have an excellent foundation upon which we can build relationships for future IDIL activities," says Dan.
"It was amazing to be part of a strong Māori delegation at the launch."
"Indigenous Peoples know the importance of their languages. What is encouraging is that the rest of the world now also sees the value in ensuring those languages survive and thrive. The International Decade of Indigenous Languages is an important opportunity for the world," says Dan.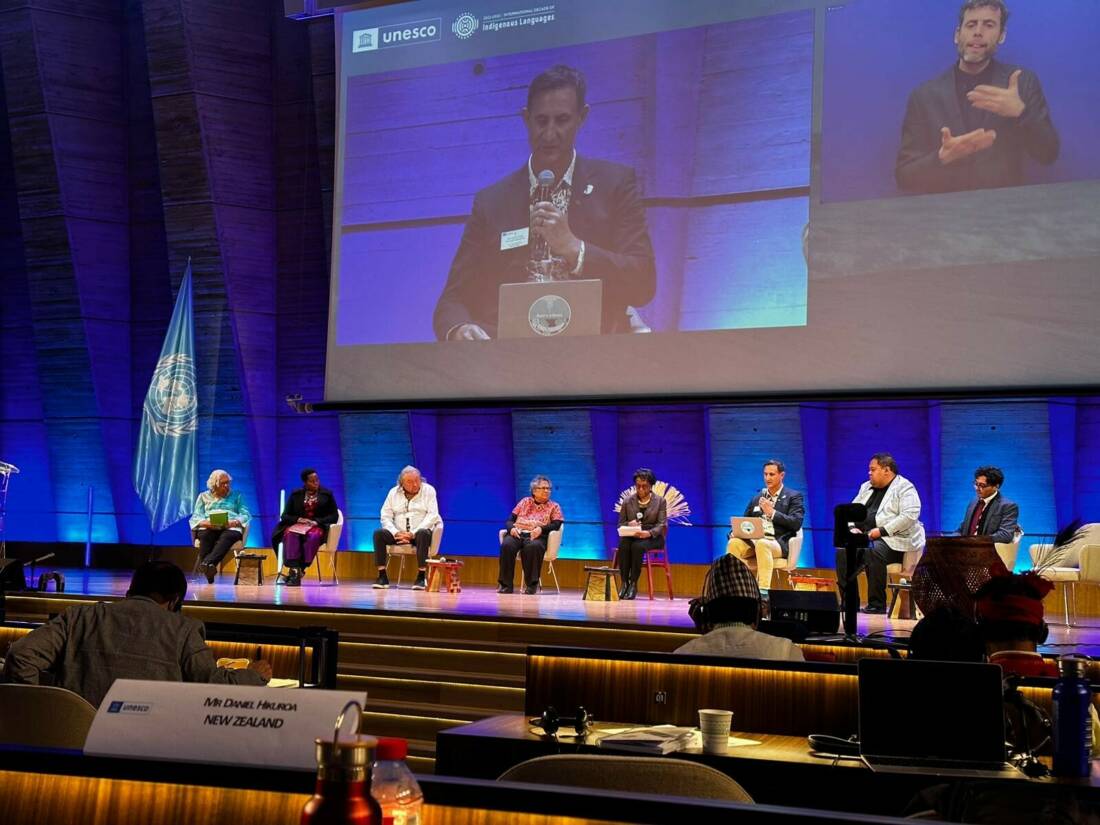 Ethan echoed Dan's words.
"Additionally, it was a privilege to share the amazing youth leaders programme we have at the National Commission. In my contributions I felt it was important to challenge youth leaders to step up, share their perspectives and ensure their voice is transferred into tangible outcomes.
"The Decade is a reminder that indigenous languages encompass more than just language, but identity, culture and sacred traditions. It's important to me because I know that the revitalisation and survival of indigenous languages are not just the responsibility of indigenous peoples but all communities who live amongst the language.
"I'm proud of the holistic approach the National Commission is leading out in Aotearoa in respect of our contribution to the Decade, and from our engagement at the high-level launch in Paris, many nations continue to look towards Aotearoa for leadership and guidance, regarding indigenous solutions and the revitalisation of languages.," said Ethan.